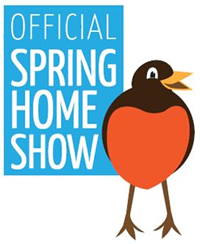 The 2017 Official Spring Home Show
Show Dates and Hours:


| | |
| --- | --- |
| Friday, February 24 | 4 pm to 9 pm |
| Saturday, February 25 | 10 am to 8 pm |
| Sunday, February 26 | 11 am to 4 pm |
The Home Builders Association of Greater Peoria has announced its Official Spring Home Show will be held February 24-26, 2017 at the Peoria Civic Center.
More than 250 companies occupying 450 booth spaces make the show the largest of its kind in Central Illinois. It features everything for the home ... inside and out ... all under one roof! Each year, approximately 20,000 local consumers use the show to make their buying decisions for new home, home remodeling and home improvement purchases!
Exhibitors display a wide range of interior, exterior, home building and home remodeling products and services. This is the largest gathering of area home builders and remodeling contractors you'll find in the area.
BOOTH SALES ARE NOW OPEN!
SEE DETAILS BELOW ON HOW TO RESERVE SPACE!
Booth sales for the Official Spring Home Show are conducted primarily through our on-line partner site, Booth Boss. There is no fee for exhibitors to use this service. The interactive program offers our exhibitors the ability to view the floor plan with live updates to see what booths remain available, who the adjoining exhibitors are, and the ability to reserve booths 24/7 at their convenience.
CLICK HERE to visit our interactive, on-line booth sales program.
Standard 10x10 booths are not held from year to year for exhibitors; however, show management has placed some booths on hold to offer a first right of refusal for the space to those companies who occupied 4 or more booths in 2016, and for home builders who are members of HBAGP in the size booth occupied in last year's show. Occasionally a change or addition to the floor plan requires that an exhibitor not be offered the same exact location, but for the above instances, an alternate space will be put on hold.
Standard booth price is $825 per 10x10. See information below about discounts that may apply to your company.
After viewing the floor plan, click on your preferred booth location(s) to add to your cart, and enter the check out process. During check out, choose from two payment options:
#1 - Pay in full now, or
#2 - Make a 50% non-refundable deposit now and your credit card used for first payment will be automatically charged the 50% balance due on January 15, 2017. All booths must be paid in full on the 1/15/17 final payment date, no matter when you make your reservation. 50% payment option is not available if reserving after that date.
Through December 31, 2016 only ... exhibitors can receive discounted booth rates when entering ONE of the following codes during the check out process:
**Current Members in good standing of the Home Builders Association of Greater Peoria (HBAGP) receive a $100 per 10x10 booth discount by entering "MEMBER725" during check out, which reduces the cost of each 10x10 booth from the standard $825 to a member discount rate of $725 per 10x10.
NOTE: Use of this code is subject to review and verification of membership by show management. Exhibitors using the code who are not eligible will have booth prices adjusted to the higher rate by show management before the sale is approved.
**Non-members of HBAGP can receive a $20 per booth discount by entering "EARLY805" during check out, which reduces the cost of each 10x10 booth from the standard $825 per 10x10 booth to an early-bird rate of $805 through December 31, 2015.
Becoming a member of HBAGP is an option in the check out process ... and if you check that box to join by paying the annual dues, the member discount code can be utilized to reserve your booth.
NOTE: Only one code can be used on any individual booth sales transaction. Member and Non-Member codes cannot be combined. Final approval of the use of any discount code is subject to show management review, based on the exhibitor's eligibility.
Each 10x10 booth space includes an 8' high back drape and 3' side drape (black and gray). Island displays do not include any drape. A cardboard identification sign is also provided, but we recommend that you provide a high-quality sign or banner in its place to greet your potential customers in a more professional manner. Because many of our exhibitors have built custom, professional displays ... no tables, chairs, carpet or other booth furnishings are included in the booth cost. Exhibitors are allowed to bring in all needed items during set up, or items can be ordered through Peoria Flag & Decorating. Orders should be submitted by February 1, 2017.
If you need 110v electrical service, you should mark that box in the check out process to pay the additional $35 fee when reserving your booth. The Peoria Civic Center charges $65 for advance power orders, and the Home Builders Association shares a portion of that cost with each exhibitor by charging just $35 to those who need electrical service in their booth. This does not apply to orders for 220v power, which is ordered directly through the Civic Center.
Once you have completed your transaction, immediate payment is required by credit card or electronic check. You cannot reserve a booth through the on-line system without payment. If you must pay by mailing a check, you cannot reserve space through the on-line system. Details on that process can be found at the bottom of this page.
Your booth request will be reviewed by show management for final approval. An email confirmation will be sent to the address you provide in the transaction. Every effort will be made to secure your first choice of booth location; however show management reserves the right to make your final placement decision, and you will be notified if it is necessary to change your first choice location.
IF YOU ARE UNABLE TO RESERVE ON-LINE WITH CREDIT CARD OR E-CHECK PAYMENT ... you must download a 2017 Official Spring Home Show contract and mail it with a check. On-line discounts are not available if using the mailing system, and booths are priced at $725 for HBAGP Members and $825 for non-members. See the contract for full details.
CLICK HERE TO DOWNLOAD a 2017 Exhibit Booth Contract to mail with your payment to:
Home Builders Association of Greater Peoria
1599 North Main Street
East Peoria, IL 61611
Booth contracts can be hand delivered to this address, but requests for specific space will be handled in the order contracts are received on-line and by mail; therefore, booth selection cannot be made in person.
Reserve early for the best booth selections!
Visit the show's web site at
OfficialHomeShow.com
for complete show details!
Learn more about the Official Spring Home Show, and have a chance to win free show tickets by becoming a fan of our Facebook page!